POM (Polyoxymethelene)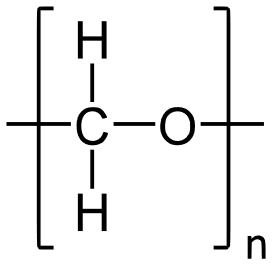 Polyoxymethylene (POM) also known as acetal resin or polyformaldehyde is a crystalline thermoplastic polymer. It is used where excellent dimensional stability, low friction and high resistance are required. Repeating chains are composed of a methylene group and an oxygen atom. The material is very resistant with a relatively low cost. It has a very low friction coefficient and excellent thermal resistance.
Chemical formula POM: (CH2O)n
CAS Number POM: 9002-81-7
Chemical Name POM (IUPAC): poly(oxymethylene)
Recycling Code POM: number 7
Recycling Symbol POM:
POM commercial names and producers:
Bergaform (PolyOne)
Celcon (Celanese)
Delrin (DuPont)
Duracon (Polyplastics)
Formocon (Formosa Plastics)
Heraform (Radici)
Hostaform (Celanese)
Isoform (Sirmax)
Isotal (Sabic)
Iupital (Mitsubishi)
Kematal (Celanese)
Kepital (KEP)
Kocetal (Kolon)
Latan (Lati)
Lucel (LG Chemical)
Polyform (Polykemi)
Rialform (Rya-Polymers)
Sabic POM (Sabic)
Ultraform (BASF)
Tarnoform (Azoty)
Tenac (Asahi)
POM European Distributors:
BIGLER (Kepital, Heraform)
Schulman (Schulaform, Lucent, Accucomp)
Mega Polymers (Celcon, Delrin, Hostafrom, Kepital, Tenac, Ultraform)
Tekuma (Kepital)
KD Feddersen (Hostaform)
PolyOne (Delrin)
ALBIS (Alcom, Ultraform)
Biesterfield (Delrin)
Nexeo (Electrafil, HiFill, InLube, Lubricomp, Lubriloy, Stat-kon, Thermocomp, Plaslube, Ultraform)
RESINEX (Hostaform, Resinex POM)
Ultrapolymers (Tenac-C, Ultraform, Latan, Latilub, Latiohm, Latishield, Latistat, Luvocom, Lubricomp, Lubriloy, Stat-kon, Stat-loy, Thermocomp, Kepital, Tenac,)
TER Plastics (Duracon, Tarnoform)
Main compound POM:
POM-GF30 (Polyoxymethelene with 30% fibre glass)
POM with lubricant
Chemical and physical properties:
POM is used a lot for its excellent mechanical characteristics. It has an excellent creep resistance, low friction, and excellent performance at low temperatures. However, chemically it has some disadvantages such as easy combustion and the production of toxic fumes which consequently severely limit its field of use. POM is divided into two main categories, POM homo, and POM copo which differentiates itself from the former by the presence of groups –CH2CH2O–.
POM standard density: 1,35 - 1,44 g/cm3 (ISO 1183)
POM melting point Tm: 165 - 185 °C
POM glass transition temperature Tg: -50 °C
POM market applications
gears
precision mechanics
screws
plumbing
piping
zips
electronics
automotive
medical
construction
clothing
musical
POM transformation technologies
Blow-molding,
Compression molding
Extrusion
Injection molding
Rotational molding
Disclaimer: Il contenuto di questo database è stato creato sulla base di informazioni di pubblico dominio ed è gestito da PlasticFinder srl. Le descrizioni contenute non offrono alcuna garanzia di completezza, attualità o accuratezza. Eventuali commenti o integrazioni possono essere inviate all'indirizzo e-mail: info@plasticfinder.it
PlasticFinder s.r.l. non verifica che gli utenti abbiano il diritto di disporre dei prodotti descritti nella scheda-prodotto, né la titolarità dei diritti di proprietà intellettuale e non è responsabile di eventuali violazioni di diritti di terzi.
Polymer

POM polyoxymethylene (acetal) resin

First choice - virgin QUALITY-PRIME

LATILUB 73/13-10T Y/15

granule/pellet
Black

157 Kg

bags on pallet

1.40 €/Kg

Polymer

POM polyoxymethylene (acetal) resin

First choice - virgin QUALITY-PRIME

SABIC POM 280S

granule/pellet
Natural / Neutral

18000 Kg

bags on pallet

4.60 €/Kg

Polymer

POM polyoxymethylene (acetal) resin

First choice - virgin QUALITY-PRIME

LUCEL N109LDS

granule/pellet
Natural / Neutral

10000 Kg

bags on pallet

3.95 €/Kg

Polymer

POM polyoxymethylene (acetal) resin

First choice - virgin QUALITY-PRIME

MC90

granule/pellet
Natural / Neutral

27000 Kg

bags on pallet

3.30 €/Kg

Polymer

POM polyoxymethylene (acetal) resin

First choice - virgin QUALITY-PRIME

LUCEL N109LD

granule/pellet
Natural / Neutral

5000 Kg

bags on pallet

3.20 €/Kg

Polymer

POM polyoxymethylene (acetal) resin

First choice - virgin QUALITY-PRIME

SABIC POM 90S

granule/pellet
Natural / Neutral

24750 Kg

bags on pallet

4.60 €/Kg

Polymer

POM polyoxymethylene (acetal) resin

First choice - virgin QUALITY-PRIME

SABIC POM 90S

granule/pellet
Natural / Neutral

10000 Kg

bags on pallet

3.70 €/Kg

Polymer

POM polyoxymethylene (acetal) resin

First choice - virgin QUALITY-PRIME

TARNOFORM 300 CE

granule/pellet
Natural / Neutral

24000 Kg

bags on pallet

3.80 €/Kg

Polymer

POM polyoxymethylene (acetal) resin

Off specs QUALITY-PRIME

HOSTAFORM C 2521

granule/pellet
Natural / Neutral

25000 Kg

bigbag 1.000-1.100 kg

3.50 €/Kg

Polymer

POM polyoxymethylene (acetal) resin

First choice - virgin QUALITY-PRIME

HOSTAFORM C 13021

granule/pellet
Black

10000 Kg

bags on pallet

5.60 €/Kg

Polymer

POM polyoxymethylene (acetal) resin

First choice - virgin QUALITY-PRIME

HOSTAFORM C 9021

granule/pellet
Natural / Neutral

5000 Kg

bags on pallet

4.60 €/Kg

Polymer

POM polyoxymethylene (acetal) resin

Recycled /Regrinded QUALITY-RECYCLED

Delrin 100 NC010

granule/pellet
Natural / Neutral

3600 Kg

bags on pallet

2.70 €/Kg

Polymer

POM polyoxymethylene (acetal) resin

First choice - Slow moving QUALITY-PRIME

DELRIN DE 12017 BLACK602

granule/pellet
Black

2975 Kg

bags on pallet

6.00 €/Kg

Polymer

POM polyoxymethylene (acetal) resin

Recycled /Regrinded QUALITY-RECYCLED

HOSTAFORM

regrinded
Miscellaneous

10000 Kg

bigbag 1.000-1.100 kg

1.60 €/Kg

Polymer

POM polyoxymethylene (acetal) resin

Off specs QUALITY-PRIME

Delrin 300TE NC010

granule/pellet
Natural / Neutral

23000 Kg

bags on pallet

3.00 €/Kg

Polymer

POM polyoxymethylene (acetal) resin

Off specs QUALITY-PRIME

HOSTAFORM S 9363 XAP²

granule/pellet
Black

20000 Kg

octabin

2.80 €/Kg

Polymer

POM polyoxymethylene (acetal) resin

Off specs QUALITY-PRIME

HOSTAFORM M25AE

granule/pellet
Natural / Neutral

23000 Kg

bigbag 1.000-1.100 kg

3.50 €/Kg

Polymer

POM polyoxymethylene (acetal) resin

First choice - virgin QUALITY-PRIME

Ultraform Z2320 003

granule/pellet
Natural / Neutral

15000 Kg

octabin

2.56 €/Kg

Polymer

POM polyoxymethylene (acetal) resin

First choice - virgin QUALITY-PRIME

Ultraform S2320 003

granule/pellet
Natural / Neutral

18000 Kg

octabin

2.56 €/Kg

Polymer

POM polyoxymethylene (acetal) resin

Off specs QUALITY-PRIME

Ultraform W2320 003

granule/pellet
Black

18000 Kg

octabin

2.56 €/Kg

Polymer

POM polyoxymethylene (acetal) resin

First choice - virgin QUALITY-PRIME

POM M90

granule/pellet
Natural / Neutral

20000 Kg

bags on pallet

2.35 €/Kg

Polymer

POM polyoxymethylene (acetal) resin

First choice - virgin QUALITY-PRIME

Delrin 500P NC010

granule/pellet
Natural / Neutral

20000 Kg

bags on pallet

3.45 €/Kg

Polymer

POM polyoxymethylene (acetal) resin

First choice - virgin QUALITY-PRIME

Delrin 500P NC010

granule/pellet
Natural / Neutral

20000 Kg

bags on pallet

5.25 €/Kg

Polymer

POM polyoxymethylene (acetal) resin

Off specs QUALITY-PRIME

HOSTAFORM S 9363 XAP²

granule/pellet
Black - color 14

20000 Kg

octabin

2.26 €/Kg

Polymer

POM polyoxymethylene (acetal) resin

First choice - virgin QUALITY-PRIME

POM M25

granule/pellet
Natural / Neutral

20000 Kg

bags on pallet

3.00 €/Kg

Polymer

POM polyoxymethylene (acetal) resin

First choice - virgin QUALITY-PRIME

POM M120

granule/pellet
Natural / Neutral

16000 Kg

bags on pallet

2.30 €/Kg

Polymer

POM polyoxymethylene (acetal) resin

First choice - virgin QUALITY-PRIME

POM 270

granule/pellet
Natural / Neutral

16000 Kg

bags on pallet

2.30 €/Kg

Polymer

POM polyoxymethylene (acetal) resin

First choice - virgin QUALITY-PRIME

POM GF-25

granule/pellet
Natural / Neutral

16000 Kg

bags on pallet

2.65 €/Kg

Polymer

POM polyoxymethylene (acetal) resin

Recycled /Regrinded QUALITY-RECYCLED

HOSTAFORM C 9021

regrinded
Natural / Neutral

4800 Kg

octabin

1.92 €/Kg
Polymer

POM polyoxymethylene (acetal) resin

LATILUB 73/13-10T Y/15

157 Kg

1.40 €/Kg

Polymer

POM polyoxymethylene (acetal) resin

SABIC POM 280S

18000 Kg

4.60 €/Kg

Polymer

POM polyoxymethylene (acetal) resin

LUCEL N109LDS

10000 Kg

3.95 €/Kg

Polymer

POM polyoxymethylene (acetal) resin

MC90

27000 Kg

3.30 €/Kg

Polymer

POM polyoxymethylene (acetal) resin

LUCEL N109LD

5000 Kg

3.20 €/Kg

Polymer

POM polyoxymethylene (acetal) resin

SABIC POM 90S

24750 Kg

4.60 €/Kg

Polymer

POM polyoxymethylene (acetal) resin

SABIC POM 90S

10000 Kg

3.70 €/Kg

Polymer

POM polyoxymethylene (acetal) resin

TARNOFORM 300 CE

24000 Kg

3.80 €/Kg

Polymer

POM polyoxymethylene (acetal) resin

HOSTAFORM C 2521

25000 Kg

3.50 €/Kg

Polymer

POM polyoxymethylene (acetal) resin

HOSTAFORM C 13021

10000 Kg

5.60 €/Kg

Polymer

POM polyoxymethylene (acetal) resin

HOSTAFORM C 9021

5000 Kg

4.60 €/Kg

Polymer

POM polyoxymethylene (acetal) resin

Delrin 100 NC010

3600 Kg

2.70 €/Kg

Polymer

POM polyoxymethylene (acetal) resin

DELRIN DE 12017 BLACK602

2975 Kg

6.00 €/Kg

Polymer

POM polyoxymethylene (acetal) resin

HOSTAFORM

10000 Kg

1.60 €/Kg

Polymer

POM polyoxymethylene (acetal) resin

Delrin 300TE NC010

23000 Kg

3.00 €/Kg

Polymer

POM polyoxymethylene (acetal) resin

HOSTAFORM S 9363 XAP²

20000 Kg

2.80 €/Kg

Polymer

POM polyoxymethylene (acetal) resin

HOSTAFORM M25AE

23000 Kg

3.50 €/Kg

Polymer

POM polyoxymethylene (acetal) resin

Ultraform Z2320 003

15000 Kg

2.56 €/Kg

Polymer

POM polyoxymethylene (acetal) resin

Ultraform S2320 003

18000 Kg

2.56 €/Kg

Polymer

POM polyoxymethylene (acetal) resin

Ultraform W2320 003

18000 Kg

2.56 €/Kg

Polymer

POM polyoxymethylene (acetal) resin

POM M90

20000 Kg

2.35 €/Kg

Polymer

POM polyoxymethylene (acetal) resin

Delrin 500P NC010

20000 Kg

3.45 €/Kg

Polymer

POM polyoxymethylene (acetal) resin

Delrin 500P NC010

20000 Kg

5.25 €/Kg

Polymer

POM polyoxymethylene (acetal) resin

HOSTAFORM S 9363 XAP²

20000 Kg

2.26 €/Kg

Polymer

POM polyoxymethylene (acetal) resin

POM M25

20000 Kg

3.00 €/Kg

Polymer

POM polyoxymethylene (acetal) resin

POM M120

16000 Kg

2.30 €/Kg

Polymer

POM polyoxymethylene (acetal) resin

POM 270

16000 Kg

2.30 €/Kg

Polymer

POM polyoxymethylene (acetal) resin

POM GF-25

16000 Kg

2.65 €/Kg

Polymer

POM polyoxymethylene (acetal) resin

HOSTAFORM C 9021

4800 Kg

1.92 €/Kg
Polymer List
Polimeri attualmente disponibili su PlasticFinder Wiki: