PMMA (Polymethylmethacrylate )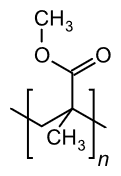 Polymethylmethacrylate (PMMA) is a thermoplastic material formed by polymers of methyl methacrylate, methyl acid methyl ester. It is also commonly referred to using the trade name Plexiglas. From a commercial point of view it is the most important polymer in the acrylic group. It offers excellent chemical and weather resistance. It is a transparent thermoplastic material very similar to Polycarbonate which is used when high impact strengths are not necessary.
Chemical Formula PMMA: (C5H8O2)n
CAS Number PMMA: 9011-14-7
Chemical Name PMMA (IUPAC): poly(methyl methacrylate)
Recycling Code PMMA: number 7
Recycling Symbol PMMA:

PMMA Commercial names and producers:
Acryrex (Chi Mei)
Altuglas (Altuglas)
Anjacryl (almaak international)
Degalan (Degussa-Rohm)
Diakon (Lucite)
Gebacryl (Geba)
Lucite (Lucite)
LG PMMA (LG MMA)
Lucryl (lucite)
Plexiglas (Evonik)
Polyplex (polykemi)
Riaglas (Ria-Polymers)
Solarkote (Arkema)
Plexalloy (Evonik)
Cyrex (Cyro)
PMMA European Distributors:
BIGLER (Altuglas)
Schulman (Ronfalin, Polyman)
Mega Polymers (Altuglas, Plexiglas)
PolyOne (Altuglas, Plexiglas)
ALBIS (Alcom, Diakon, Elvakon, Altech)
Biesterfield (Acryrex)
Nexeo (Acrylite, Cyrolite, Optix)
RESINEX (Altuglas)
Ultrapolymers (Plexiglas, Sumipex, Diakon)
TER Plastics (Acryl, Plexiglas)
Chemical and physical properties:
The formulas vary based on the molecular weight and the required physical properties, such as flow rate, heat resistance and strength. This material is more or less unbreakable depending on its chemical characteristics. High-flow formulas are preferred for molding.
PMMA has excellent optical properties and excellent resistance to atmospheric agents. Transparency in white light reaches 92%, even more than glass. Unlike PC it is very resistant to UV rays and doesn't turn yellow. The molded parts can present a limited bi-refraction, so PMMA proves itself to be a suitable material for video discs. Similar to PMMA is PMA polymethylacrylate which presents as a soft rubber.
PMMA standard density: 1,17 - 1,20 g/cm3 (ISO 1183)
PMMA melting point Tm: 105-160 °C
PMMA glass transition temperature Tg: 80-105 °C
PMMA market applications
Automotive
Construction
Lighting
Audio
Glasses
Optical
Medical
PMMA transformation technologies
Injection molding
Compression molding
Extrusion
Casting
History and Trivia on PMMA:
On the market since 1932, this polymer was of utmost importance during the Second World War when it was used for aircraft glass and submarines. Today it is used in many fields such as aquariums, medical transplants, cosmetic surgery.
Thanks to its very high transparency and its low cost, it has succeeded in many applications to replace glass..
It is curious that the commercial name of Plexiglass - a product developed by the company Evonik in 1933 and still in production today - is better known than the name of the material (PMMA).
Disclaimer: Il contenuto di questo database è stato creato sulla base di informazioni di pubblico dominio ed è gestito da PlasticFinder srl. Le descrizioni contenute non offrono alcuna garanzia di completezza, attualità o accuratezza. Eventuali commenti o integrazioni possono essere inviate all'indirizzo e-mail: info@plasticfinder.it
PlasticFinder s.r.l. non verifica che gli utenti abbiano il diritto di disporre dei prodotti descritti nella scheda-prodotto, né la titolarità dei diritti di proprietà intellettuale e non è responsabile di eventuali violazioni di diritti di terzi.
Polymer

PMMA polymethylmethacrylate (acrylic) plexiglass

First choice - virgin QUALITY-PRIME

PLEXIGLAS 6N

granule/pellet
Transparent

1000 Kg

bags on pallet

2.50 €/Kg

Polymer

PMMA polymethylmethacrylate (acrylic) plexiglass

First choice - virgin QUALITY-PRIME

LG HP202

granule/pellet
Transparent

5000 Kg

bags on pallet

2.30 €/Kg

Polymer

PMMA polymethylmethacrylate (acrylic) plexiglass

First choice - virgin QUALITY-PRIME

LG HP202

granule/pellet
Transparent

15000 Kg

bags on pallet

2.25 €/Kg

Polymer

PMMA polymethylmethacrylate (acrylic) plexiglass

First choice - virgin QUALITY-PRIME

IH830C

granule/pellet
Natural / Neutral

25000 Kg

bags on pallet

3.32 €/Kg

Polymer

PMMA polymethylmethacrylate (acrylic) plexiglass

First choice - virgin QUALITY-PRIME

IF850

granule/pellet
Natural / Neutral

5000 Kg

bags on pallet

3.32 €/Kg

Polymer

PMMA polymethylmethacrylate (acrylic) plexiglass

First choice - virgin QUALITY-PRIME

IF850

granule/pellet
Transparent

10000 Kg

bags on pallet

2.90 €/Kg

Polymer

PMMA polymethylmethacrylate (acrylic) plexiglass

First choice - virgin QUALITY-PRIME

EG920

granule/pellet
Natural / Neutral

25000 Kg

bags on pallet

3.32 €/Kg

Polymer

PMMA polymethylmethacrylate (acrylic) plexiglass

Recycled /Regrinded QUALITY-RECYCLED

Diakon CMG302

regrinded
Natural / Neutral

16500 Kg

bigbag 1.000-1.100 kg

1.48 €/Kg

Polymer

PMMA polymethylmethacrylate (acrylic) plexiglass

Recycled /Regrinded QUALITY-RECYCLED

ALTUGLAS UVT 100 V129

regrinded
Transparent

4000 Kg

octabin

1.28 €/Kg

Polymer

PMMA polymethylmethacrylate (acrylic) plexiglass

First choice - virgin QUALITY-PRIME

20HR

granule/pellet
Transparent

24750 Kg

bags on pallet

2.95 €/Kg

Polymer

PMMA polymethylmethacrylate (acrylic) plexiglass

First choice - virgin QUALITY-PRIME

20 HR

granule/pellet
Transparent

23500 Kg

bags on pallet

2.90 €/Kg

Polymer

PMMA polymethylmethacrylate (acrylic) plexiglass

First choice - virgin QUALITY-PRIME

140HF

granule/pellet
Transparent

24750 Kg

bags on pallet

3.05 €/Kg
Polymer

PMMA polymethylmethacrylate (acrylic) plexiglass

20 HR

23500 Kg

2.90 €/Kg

Polymer

PMMA polymethylmethacrylate (acrylic) plexiglass

EG920

25000 Kg

3.32 €/Kg

Polymer

PMMA polymethylmethacrylate (acrylic) plexiglass

IF850

5000 Kg

3.32 €/Kg

Polymer

PMMA polymethylmethacrylate (acrylic) plexiglass

IH830C

25000 Kg

3.32 €/Kg

Polymer

PMMA polymethylmethacrylate (acrylic) plexiglass

LG HP202

5000 Kg

2.30 €/Kg

Polymer

PMMA polymethylmethacrylate (acrylic) plexiglass

LG HP202

15000 Kg

2.25 €/Kg

Polymer

PMMA polymethylmethacrylate (acrylic) plexiglass

IF850

10000 Kg

2.90 €/Kg

Polymer

PMMA polymethylmethacrylate (acrylic) plexiglass

140HF

24750 Kg

3.05 €/Kg

Polymer

PMMA polymethylmethacrylate (acrylic) plexiglass

20HR

24750 Kg

2.95 €/Kg

Polymer

PMMA polymethylmethacrylate (acrylic) plexiglass

ALTUGLAS UVT 100 V129

4000 Kg

1.28 €/Kg

Polymer

PMMA polymethylmethacrylate (acrylic) plexiglass

PLEXIGLAS 6N

1000 Kg

2.50 €/Kg

Polymer

PMMA polymethylmethacrylate (acrylic) plexiglass

Diakon CMG302

16500 Kg

1.48 €/Kg
Polymer List
Polimeri attualmente disponibili su PlasticFinder Wiki: