PBT (Polybutylene terephthalate)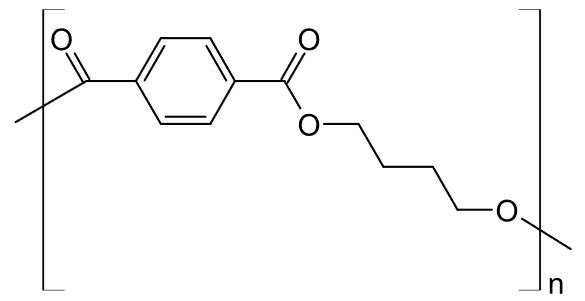 Polybutylene terephthalate (PBT) is a semi-crystalline thermoplastic material belonging to the polyester family. It's produced by the polymerization of butadiene and terephthalic acid. PBT differs chemically from PET in its number of -CH2 groups. The mechanical characteristics of the two materials are similar but slightly lower for PBT. Both materials are subject to hydrolytic degradation but PBT has a low moisture absorption. Unlike PET this material crystallizes quickly and without the need for nucleating agents. Furthermore, compared to PET, this material has a melting temperature of Tm (approx 224 ° C) and a lower glass transition temperature of Tg (22-43 ° C). The advantage of lower processing temperatures is off-set by lower heat distortion temperatures.
Chemical Formula PBT: (C12H12O4)n
CAS Number PBT: 24968-12-5
Chemical Name PBT (IUPAC): Poly(oxy-1,4-butanediyloxycarbonyl-1,4-phenylenecarbonyl)
Recycling Code PBT: number 7
Recycling Symbol PBT:

PBT Commercial names and producers
Anjadur (almaak international)
Arnite (DSM)
Badadur (Bada)
Bergadur (PolyOne / Bergmann)
Celanex (Celanese)
Crastin (DuPont)
DIC PBT (Dai Nippon Japan)
Duranex (Polyplastics)
Enduran (Sabic)
Gebadur (Geba)
Infino (Samsung Lotte)
Isodur (Sirmax)
Lupox (LG Chemicals)
Pibiter (So.F.Ter)
Pocan (Lanxess)
Polyshine (Polykemi)
Raditer (Radici)
Saxadur (Sax Polymers)
Schuladur (Schulman)
Staren (Samsung)
Ultradur (BASF)
Valox (Sabic)
Vestodur (Evonik)
PBT European Distributors:
BIGLER (Raditer, Radiflam B, Pibifor)
XIFA (Valox, Xenoy)
Schulman (Schuladur, QR Resin, Polyflam, Matrixx, Lucent PC, Ecollent, Diamaloy)
Mega Polymers (Arnite, Celanex, Crastin, Kebater, Pocan, Radiflam, Ultradur, Valox, Vestodur)
Tekuma (Infino)
KD Feddersen (Precite, Celanex, Vandar)
PolyOne (Crastin, Edgetecl, Gravi-tech, LubriOne, Trilliant)
ALBIS (Alcom, Altech, Pocan, Ultradur, Makroblend )
Biesterfield (Crastin)
Nexeo (Colorfast, Electrafil, Enviroplas, HiFill, Colorcomp, Lubricomp, Thermocomp, Pocan, Ultradur, Valox)
RESINEX (Arnite, Celanex)
Ultrapolymers (Ultradur, Later, Latilub, Luvocom, Thermocomp, Valox, Colorcomp, Lubricomp, Stat-kon, Tribit)
TER Plastics (Arnite T, CCP PBT, Terez PBT,)
Main compounds with PBT:
PBT/PC (Blend Polybutylene terephthalate Polycarbonate)
PBT/ASA (Blend Polybutylene terephthalate acrylic styrene acrylonitrile )
PBT/PET (Blend Polybutylene terephthalate PolyethyleneTerephthalate)
PBT-GF30 (Polybutylene terephthalate fibre glass 30%)
PBT-GF15FR (PolibutilenTereftalato fibre glass 15% with flame retardant)
Chemical and physical properties:
It is a semi-crystalline material with excellent chemical resistance, mechanical rigidity, exceptional electrical properties (high dielectric strength and insulation resistance) and heat resistance, properties that remain stable in a wide range of environmental conditions.
Compared to Polyamide, PBT technopolymers have a greater specific weight, lower melting point, greater dimensional stability due to the low influence of humidity variations, and lower impact resistance.
PBT and PET are sensitive to aging via the action of UV rays and must be adequately shielded if used outdoors.
History of PBT
The preparation of the first polyester resin dates back to Berzelius, Gay-Lussac and Pelouze in 1847 and 1883 when its first application was for a surface coating. At that time the resin was known as alkyd (alcohol + acid). PBT officially debuted on the market more or less along with PET around 1970 and was presented as a plastic engineering material.
PBT standard density: 1,24 – 1,34 g/cm3 (ISO 1183)
PBT melting point Tm: 220 °C
PBT glass transition temperature Tg: 22 - 43 °C
PBT application markets
Electrical appliances
Electrical components
Automotive
PBT transformation technologies
Injection molding
Extrusion
Film
Filaments
Rotating molding
Disclaimer: Il contenuto di questo database è stato creato sulla base di informazioni di pubblico dominio ed è gestito da PlasticFinder srl. Le descrizioni contenute non offrono alcuna garanzia di completezza, attualità o accuratezza. Eventuali commenti o integrazioni possono essere inviate all'indirizzo e-mail: info@plasticfinder.it
PlasticFinder s.r.l. non verifica che gli utenti abbiano il diritto di disporre dei prodotti descritti nella scheda-prodotto, né la titolarità dei diritti di proprietà intellettuale e non è responsabile di eventuali violazioni di diritti di terzi.
Compound

PBT-GF30 polybutylene terephthalate

First choice - virgin QUALITY-PRIME

LUPOX GP2300

granule/pellet
Natural / Neutral

3000 Kg

bags on pallet

4.00 €/Kg

Compound

PBT-GF30 polybutylene terephthalate

First choice - virgin QUALITY-PRIME

LUPOX GP2300

granule/pellet
Natural / Neutral

4000 Kg

bags on pallet

3.40 €/Kg

Compound

PBT-GF30 polybutylene terephthalate

First choice - virgin QUALITY-PRIME

Deniter 3010

granule/pellet
Light blue

375 Kg

bags on pallet

2.00 €/Kg

Compound

PBT-GF30 polybutylene terephthalate

First choice - virgin QUALITY-PRIME

LUPOX GP2306F

cylindrical granule/pellet
Natural / Neutral

10000 Kg

bigbag 1.000-1.100 kg

4.85 €/Kg

Compound

PBT-GF10 FR polybutylene terephthalate

First choice - Slow moving QUALITY-PRIME

CRASTIN T841 FR BK851

granule/pellet
Black

2000 Kg

bags on pallet

3.25 €/Kg

Compound

PBT FR polybutylene terephthalate

First choice - Slow moving QUALITY-PRIME

CELANEX X680

granule/pellet
Natural / Neutral

250 Kg

bags on pallet

1.00 €/Kg

Polymer

PBT polybutylene terephthalate

Off specs QUALITY-PRIME

Pocan B 1300

granule/pellet
Natural / Neutral

70000 Kg

bigbag 1.000-1.100 kg

3.30 €/Kg

Polymer

PBT polybutylene terephthalate

First choice - virgin QUALITY-PRIME

TYNEP 4308 G30 FV V0 WHITE

granule/pellet
White

343 Kg

bags on pallet

1.70 €/Kg

Polymer

PBT polybutylene terephthalate

First choice - virgin QUALITY-PRIME

LUPOX GP1000M

granule/pellet
Natural / Neutral

3000 Kg

bags on pallet

4.43 €/Kg

Polymer

PBT polybutylene terephthalate

First choice - virgin QUALITY-PRIME

LUPOX GP1000M

granule/pellet
Natural / Neutral

4000 Kg

bags on pallet

3.70 €/Kg

Polymer

PBT polybutylene terephthalate

First choice - Slow moving QUALITY-PRIME

KUNDER PBT G30 H RG

granule/pellet
Light grey - 7042

5970 Kg

octabin

0.50 €/Kg

Polymer

PBT polybutylene terephthalate

Off specs QUALITY-PRIME

POCAN 1300

granule/pellet
Natural / Neutral

20000 Kg

bigbag 1.000-1.100 kg

2.60 €/Kg

Polymer

PBT polybutylene terephthalate

First choice - virgin QUALITY-PRIME

CRASTIN CE2055

granule/pellet
Black

12000 Kg

octabin

1.67 €/Kg
Compound

PBT-GF30 polybutylene terephthalate

LUPOX GP2300

3000 Kg

4.00 €/Kg

Compound

PBT-GF30 polybutylene terephthalate

LUPOX GP2300

4000 Kg

3.40 €/Kg

Compound

PBT-GF30 polybutylene terephthalate

Deniter 3010

375 Kg

2.00 €/Kg

Compound

PBT-GF30 polybutylene terephthalate

LUPOX GP2306F

10000 Kg

4.85 €/Kg

Compound

PBT-GF10 FR polybutylene terephthalate

CRASTIN T841 FR BK851

2000 Kg

3.25 €/Kg

Compound

PBT FR polybutylene terephthalate

CELANEX X680

250 Kg

1.00 €/Kg

Polymer

PBT polybutylene terephthalate

Pocan B 1300

70000 Kg

3.30 €/Kg

Polymer

PBT polybutylene terephthalate

TYNEP 4308 G30 FV V0 WHITE

343 Kg

1.70 €/Kg

Polymer

PBT polybutylene terephthalate

LUPOX GP1000M

3000 Kg

4.43 €/Kg

Polymer

PBT polybutylene terephthalate

LUPOX GP1000M

4000 Kg

3.70 €/Kg

Polymer

PBT polybutylene terephthalate

KUNDER PBT G30 H RG

5970 Kg

0.50 €/Kg

Polymer

PBT polybutylene terephthalate

POCAN 1300

20000 Kg

2.60 €/Kg

Polymer

PBT polybutylene terephthalate

CRASTIN CE2055

12000 Kg

1.67 €/Kg
Polymer List
Polimeri attualmente disponibili su PlasticFinder Wiki: